Databricks is a unified big data processing and analytics cloud platform that transforms and processes enormous volumes of data. Apache Spark is the building block of Databricks, an in-memory analytics engine for big data and machine learning. This article has documented how to conquer the Databricks Certified Data Engineer Associate certification.
Databricks has introduced the Data Engineering Associate exam, which consists of 45 multiple-choice questions. The time slot allocated is 1.30 hr. The passing score is 32, which is 70%. High-level topics with their weightage in the exam are: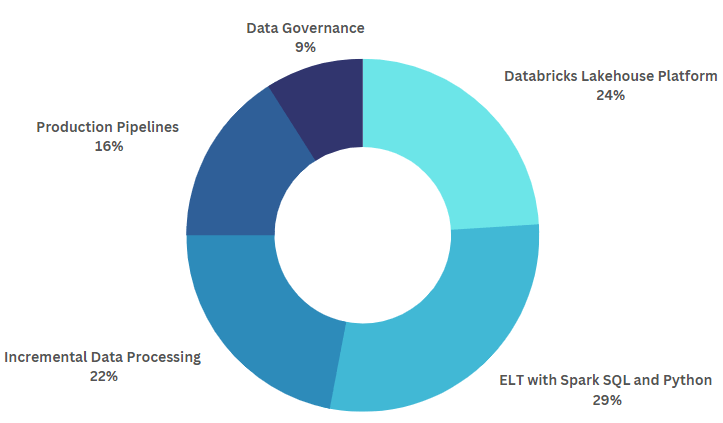 Learning Pathway

Before you begin
1. You should understand Databricks, data engineering concepts, python, and SQL.
2. Databricks offers three certifications in the Data Engineering space. To attempt Data Engineer Associate Certification, it is advisable to learn Databricks Lakehouse Fundamentals and pass Databricks Lakehouse Fundamentals Accreditation.
3. Databricks data engineer exam and certification-related details on the Databricks website.
4. Databricks offers free exam vouchers to those who attend a three days Data Lake seminar organized by Databricks. Please watch out for the next event from here.
Prepare for the Exam
Sign in to the Databricks Partner Academy site for a self-paced video or paid instructor-led course using your office mail id.
Choose this course for this Databricks Certified Data Engineer Associate certification exam.
Study these items in detail:

Practice and Test
To familiarize yourself with Databricks data engineer associate exam questions, please attempt the Practice Exam prepared by Databricks to glimpse actual exam content standards and difficulty levels.
Once you are done with it and understand your preparation, I recommend practicing tests by Akhil V and Certification Champs on Udemy.
Book Your Exam Slot
If your practice test exam score is at least 90%, you can book your actual slot here.
Pro tips:
1. Community Edition of Databricks doesn't cover all the topics for this exam. You may need to use paid Databricks with Azure or AWS. The smallest possible capacity might suffice learning requirements.
See more